Byron "Trip" Cook, MD
Referral Ophthalmologist
1-866-LASER22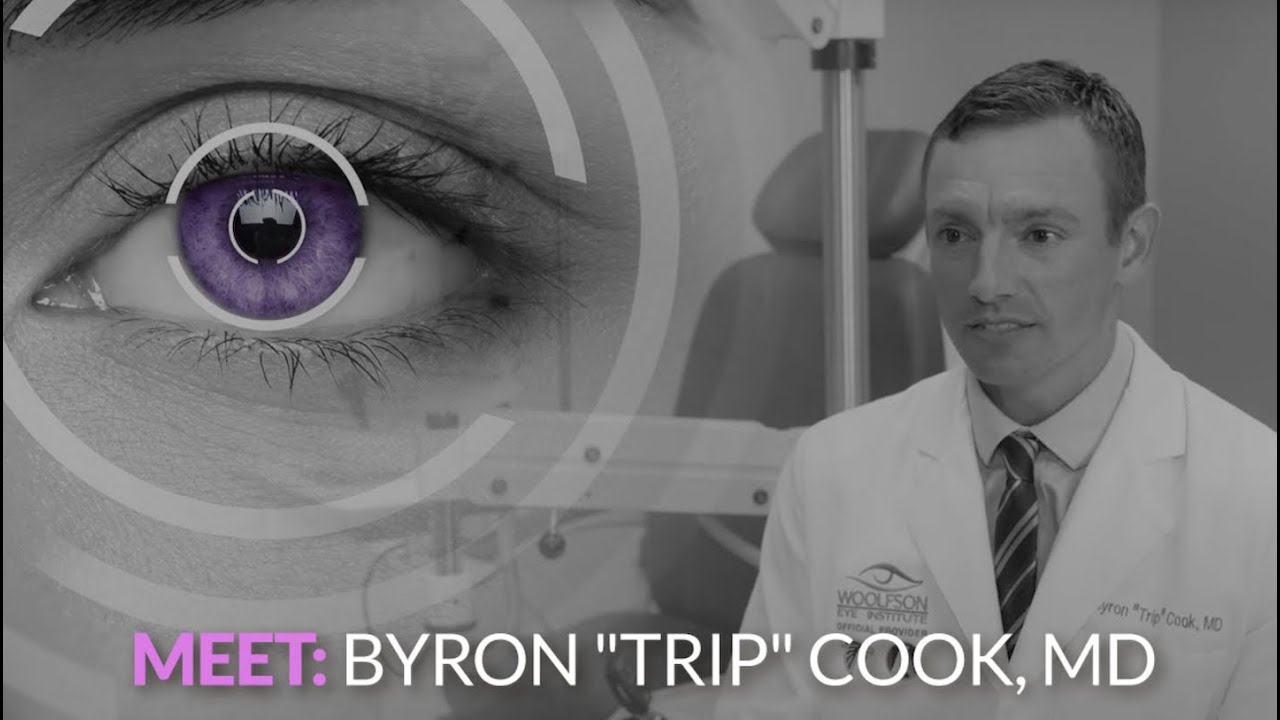 Byron "Trip" Cook, MD is a board-certified ophthalmologist with advanced training and experience in cataract, cornea and refractive surgery. He joined Woolfson Eye Institute in 2013. He maintains active privileges with Northside Hospital – Forsyth, and Woolfson Eye Institute Ambulatory Surgery Center. He provides full-service cornea and cataract surgery in Cumming, Sandy Springs, and Snellville – performing over 1,000 major eye surgeries per year.
Dr. Cook is a native to Atlanta. He grew up in Tucker where he attended Dekalb County's own Lakeside High School. He completed his pre-med undergraduate education at Davidson College, just outside of Charlotte, North Carolina. Prior to medical school, he did two years of post-graduate work at the Centers for Disease Control (CDC) in Atlanta. He graduated medical school in 2008 from the Medical College of Georgia in Augusta. He completed a 1-year transitional internship at Emory University and Grady Memorial Hospital in Atlanta, Georgia followed by a 3-year ophthalmology residency at the University of Kentucky School of Medicine in Lexington, Kentucky. During his final year of residency in Kentucky, he proudly served as Chief Resident. Dr. Cook completed his post-graduate training with a Cornea, Refractive and External Disease Fellowship at the University of Texas-Southwestern Medical Center in Dallas, Texas. There, he also served as Assistant Clinical Instructor for resident education.
Dr. Cook is an active member of the Atlanta Ophthalmology Society, the Georgia Society of Ophthalmology, the American Society of Cataract and Refractive Surgery, and the American Academy of Ophthalmology.
His clinical interests include premium & laser-assisted cataract surgery, corneal diseases and surgeries (Fuchs Dystrophy, Keratoconus, Cornea Transplants), LASIK, Implantable Collamer Lenses (ICL), complex intraocular lens (IOL) implant surgeries (including IOL exchange and secondary IOLs), minimally invasive glaucoma surgery (MIGS), ocular surface reconstruction, ocular infections, ocular surface disease, dry eye disease, and anterior uveitis.
Through Woolfson Eye Institute's association with the Southern College of Optometry, Dr. Cook acts as a clinical instructor to optometry residents and student externs.
Dr. Cook is married to a fellow physician, Jennifer Cook, MD, who practices internal medicine in Cumming. The Cooks and their 2 young daughters live in Forsyth County. When not consumed with work or family, Trip is an avid tennis player, an aspiring guitarist, and a truly amateur golfer.
---
What Patients are Saying about Dr. Cook

Jethro Felton
The entire team at Woolfson are friendly and professional. Dr. Cook is concise and clear in his communications and very willing to spend the time necessary to answer questions. Highly recommended...

Excellent Physician. Very happy with my results

Merrilee
Grateful for Dr Cook - research! '16 cataracts. Thorough exam. Date set. Explained everything -took his time- RK in '93 with 8 cuts reshaping each cornea-was very concerned re eyes. The surgery center-terrific. Dr Cook stopped by prior to surgery & reviewed procedure again. IV administered in surgery room w him & staff present. I was/am extremely pleased. Follow-up next day & then in week, etc. 2nd eye done 2 weeks later. Follow-up once a year. Recommend him highly. Teaching physician too!

Christine Tucker-Seese
Dr Cook is a very caring doctor. Had cataract surgery on both eyes. He has kept a close eye on my eyes to make sure the heal properly.