James Hays, MD
Referral Ophthalmologist
1-866-LASER22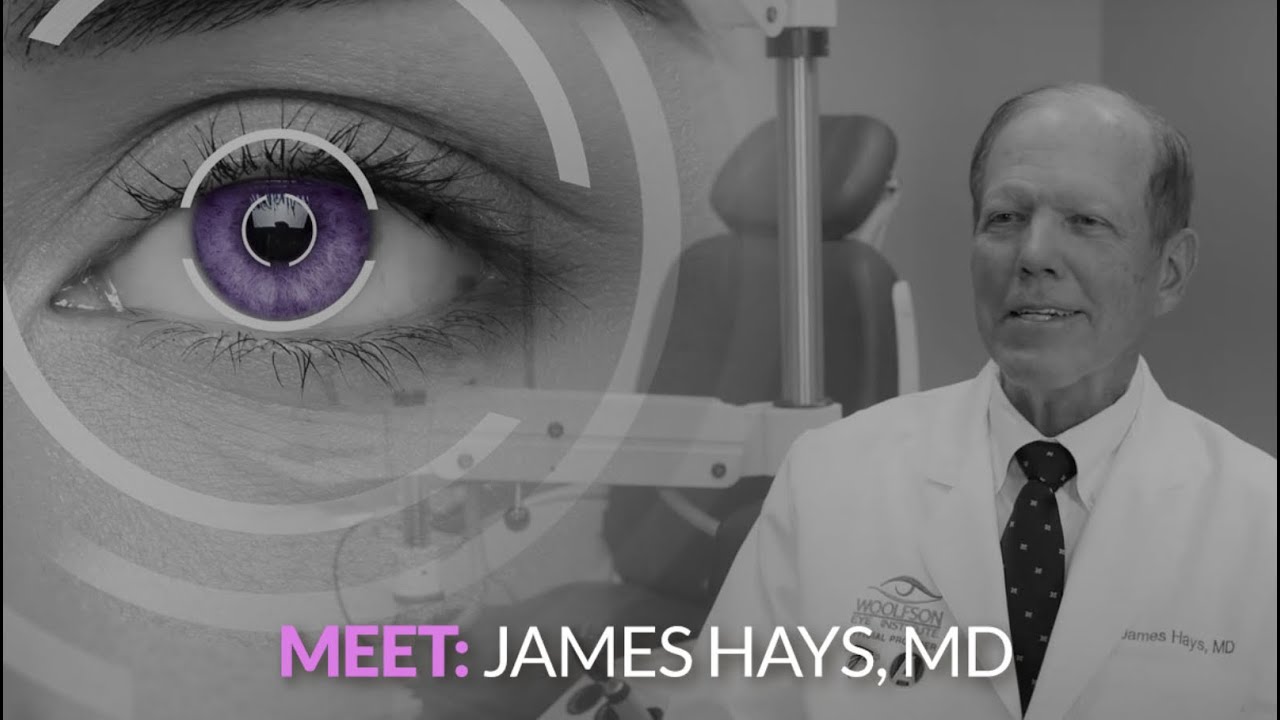 Dr. Hays is a board-certified ophthalmologist currently practicing cataract, corneal transplant and refractive surgery at Woolfson Eye Institute. Dr. Hays has extensive experience in refractive and corneal surgery, performing over 12,000 refractive surgeries and 25,000 cataract surgeries during his industrious career.
After spending his early years in Memphis, Tennessee, Dr. Hays received his undergraduate degree with honors from Michigan State University. He then attended medical school at the renowned University of Michigan. After graduation, he completed his residency and internship at Henry Ford Hospital in Detroit, Michigan, which included a stint as Chief Resident. Upon completing his residency, he went on to complete a two year corneal fellowship at the Dean McGee Eye Institute in Oklahoma City, Oklahoma. He obtained board certification in 1985, and is licensed in both Georgia and Tennessee. More recently, because of his interest in business, he attended Auburn University School of Business, graduating with an M.B.A. in 2009.
From the beginning of his career, Dr. Hays has been an active lecturer, teacher, and published researcher. His presentation topics, which have been presented in the United States as well as nine other countries, include all aspects of Radial Keratotomy (RK) and corneal surgery. Dr. Hays' interest in sharing his skill led to him to teach courses on the techniques of RK, corneoscopy, and corneal topography. He has been an active instructor since 1983 for various companies, hospitals, and private practices.
Dr. Hays has been recognized many times during his career for his contributions to ophthalmology. Some of these awards include: Greatest Scientific and Clinical Significance of Papers Published in 1984 and The American Academy of Ophthalmology Achievement Award in 2000. He remains active in several prestigious professional organizations related to his field which include: The American Academy of Ophthalmology, International Society for Refractive Surgery, American Society of Cataract and Refractive Surgery, and Medical Association of Georgia.
Dr. Hays is an avid runner, participating in 21 of the last 22 Peachtree Road Races. He currently resides in Roswell, Georgia and enjoys playing golf and tennis when he is not engaged in his practice.
---
What Patients are Saying about Dr. Hays
Marilee Weeks
Thanks to Dr James (Jim) Hays. I am very blessed to have this particular Dr. taking care of my eye issues and restoring my sight. I was definitely led to the best Dr. and I am at the point of just knowing wherever I am led it is God directed.
I started with Kaylan who was the testing and photo expert. She is kind, reassuring, thorough and very patient. She was so amazing at every step throughout the testing. I was very relieved when she left me at the end of my visit and said she would see me on surgery day. That was a huge blessing knowing she would be there, too.
Marco will also be there on surgery day and I am so thankful for his calm assurance and thorough attention to detail. He leads with a professional reassurance that shows consideration for his patients and their concerns. I am so thankful he will be there.
I am relieved to have this wonderful team to restore my vision issues. Each eye is going to require different remedies but Dr. Hays knows exactly what I need and everyone is prepared to move forward.
Cathy, thank you! Thank you so much for the scheduling perks and to take the time to explain everything that was important for my scheduled procedures. I know you are a busy lady but you took all the time needed to make sure I left there with answers to my questions or address any concerns. I am so thankful to have a team of experts who have my best interest at heart. Thank you to the entire team at Woolfson Eye Institute. Let's just say that you had me at 'Hello'.

Debbie Bytheway
DR Hays and all his staff was great.No pain at all in procedure. I would highly recommend him and his staff completely.

Bruce Myers
Had a great experience at the clinic. Dr. Hayes and his staff are wonderful. Would recommend them any time. Thanks for the great care.

Doctor Hays and all of the staff at the surgery center were amazing. Everyone was warm, welcoming and made the entire process a pleasure to experience.

My CCR Moment! (CCR = Credence Clearwater Revival) - Dr. Hays is a tremendous eye surgeon who also comes with a high Emotional Intelligence Index (EQ). I cannot say enough just what a pleasurable experience he delivers for a procedure that can make even the most stoic among us anxious. The staff is very well trained, top of their respective games as well. The communication across the board is about the best I have ever experienced within the medical profession. Covering the details through effective communication combined with a Best in Class surgeon provide the elixir for outstanding results and experiences.

Varner Jo Blackshaw Holmes
Excellent experience with my first cataract, done by Dr. Hays. In 2 weeks I have other one done. I know what to expect now, so it should go even more smoothly, if that's possible!

Paul F. Thompson
I had cataract surgery yesterday performed by Dr. Hays. It was over before I knew it was started. Now typing this with no glasses on. All staff were courtious and professional. Was well looked after throughout the whole procedure.

Jo H.
Eye Surgery isn't really considered pleasant but having been to Woolfson Eye twice now, I wanted to try to put your mind at ease by saying that they make it as pleasant as possible. It really wasn't that bad. Way less worrisome than you can make it out to be in your mind. The surgery center staff is friendly and does their job. The technology is up to date and my Dr. Hays is a gifted surgeon. Dr. Hays has restored my eyesight and I am so grateful. His demeanor is wonderful and he makes you feel safe. You can see how busy this place is if you just sit and watch. I had my first surgery in another very large eye center so I do have something to compare to. I feel confident saying that if you are looking for a top notch surgical facility with competent doctors that use the most up to date equipment and techniques and care mostly about a positive outcome for your eye troubles...go there.

clara childress
The reviews I've read lean mostly toward lasik surgery. My latest experience has been with the outstanding care of Dr James Hays who performed DSEK (Cornea Replacement surgery) on my right eye about year and a half ago) I can't imagine the skill required for such a delicate procedure, but Dr Hays has mastered it--In February (2015), Dr Hay will perform DSEK on my left eye--I trust him completely! Thank you, Dr Hay, for saving my sight! Clara Breazeale Childress, Roswell, GA.

Chris Snellgrove
Dr. Hays is a phenomenal eye surgeon, and trust me I've seen a lot in my life with my eyes. That was not intended to be a pun. I've had severe myopia all my life and have suffered from floaters to cataracts. Dr. Hays has provided me with excellent medical attention and always done so with a special friendly bedside manner. Friendly and proficient care. Thanks Dr. Hays