Jonathan Woolfson, MD
Founder & Medical Director
Lasik Surgery
1-866-LASER22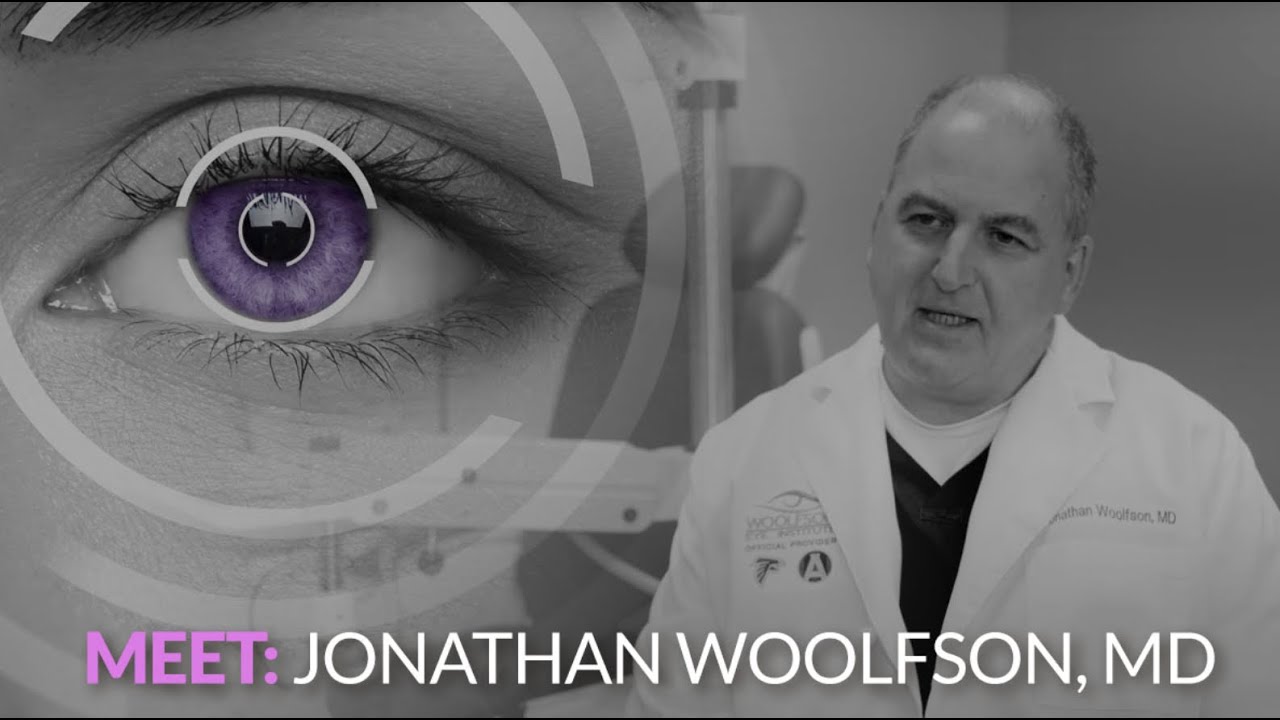 LASIK EXPERIENCE
Dr. Woolfson has performed over 100,000 LASIK procedures, making him one of the most experienced LASIK surgeons in North America. A further testament to his expertise: more than 300 eye doctors have chosen him to perform their own LASIK. This distinction, along with his worldwide reputation, is why, when professional athletes, celebrities, business leaders, and people just like you decide to have LASIK, they choose Dr. Woolfson.
Training
Dr. Woolfson received his medical degree from Vanderbilt University and completed his ophthalmology residency and internship at Emory University. In 1994 and 1995 (prior to FDA approval of laser vision correction), he fellowship-trained abroad with Michael Kritzinger, MD, an internationally acclaimed excimer laser pioneer. Upon FDA approval of the procedure, Dr. Woolfson returned to the United States and began his career as a LASIK surgeon.
---
FDA Clinical Studies
Several laser companies, including VISX™ and Lasersight Technologies, have selected Dr. Woolfson to be a clinical investigator for their equipment. In addition, he has served as a national proctor, providing training and certification to more than 100 LASIK surgeons in North America. In fact, VISX has honored him as the recipient of the prestigious VISX Star award for three consecutive years.
---
Accomplishments and Memberships
Dr. Woolfson is a board-certified ophthalmic surgeon with memberships in the American Academy of Ophthalmology, the American Society of Cataract and Refractive Surgery, the International Society of Refractive Surgery, and the American Medical Association.
He has presented at both national and international optometry and ophthalmology meetings, having been asked to speak about his extensive LASIK experience. In fact, a large part of his practice involves treating complex cases and patients who have previously had LASIK at other facilities.
---
What Patients are Saying about Dr. Woolfson

Kelsey Edwards
I had a wonderful experience at Woolfson Eye Institute! Dr Woolfson and staff were great every step of the way - from the consultation to the post-op, all of my questions were answered and I felt very prepared with what to expect with surgery, recovery and even financing. The procedure itself was quick and easy and Dr Woolfson is very professional. I felt very comfortable putting my vision in his hands! I would highly recommend Woolfson Eye Institute for LASIK!

Victor Kivinen
Woofson was great with their pre and post op contacts. I would highly recommend Woofson! Their staff, nurses, and doctors are highly competent. I praise my experience with Woofson from before and after surgery... the best!!

Taylor W
Dr. Woolfson and Dr. Zlotcavich completely changed my life with Lasik surgery! The staff is amazing at making you feel comfortable and I could not be happier with my results! I will forever be grateful.

Eric Jones
Dr Woolfson and all the people that work with him are very professional and made my surgery experience a success. I am so happy with the surgery and the results. I am 49 years d and have had to wear glasses since I was in 3rd grade. I am now seeing the world with 20/20 vision through my own lenses and not the glass lenses I have had to struggle with for years. I am finally able to do the little things that people take for granted. I bought my first pair of sunglasses that weren't prescription sunglasses! Seems silly to say but for me that is huge and very freeing to be able to wear regular sunglasses when I go out. Thank you to Dr Woolfson, Amy, David and everyone else at Woolfson Eye Institute for starting me out on this adventure and my new life without glasses!

Tal Scheuer
The highest level of professionalism topped with excellent service! There is no doubt that if you're looking for the best place to have your glasses removed (Lasik) you should go the Woolfson institute. Dr Woolfson himself performs the surgery which is a walk in the park from the patient perspective. It litterly took five minutes and I got rid of my glasses. Thank you Dr Woolfson and a huge thanks to your great staff!

Jess Yi
Professional, warm and friendly providers at Woolfson Eye Institute. From the initial consult, to pre-op procedures led by David L. I felt at ease all the way up to the actual lasik surgery that was conducted seamlessly by Dr , himself. Seeing Dr Woolfson again the following day for the 1 day check up further made the whole process a highly personalized and unique experience. I've already begun referring WEI to my friends and family!

Julissa Claros
Absolutely loving the results of my lasik! Dr. Woolfson was amazing and I was completely comfortable during the whole procedure. I can see really clear and it's just the first day! I can't wait for my eyesight to settle. Thank you so much to Dr. Woolfson, David and the rest of the Wolfpack!

Jeslyn D.
I had PRK procedure done two months ago and, while it was pretty significantly painful, Dr. Woolfson and staff made the irritation worth it. I would absolutely go through that again to have the clear, crisp vision I have now. I send everyone to Woolfson now. Thanks 🙂

Robin Parker
Dr. Woolfson,
Thank you thank you thank you! I can't begin to tell you how amazing this surgery has been to me. I've been wearing glasses and contact since 11 years of age and truly can't remember ever waking up and seeing this clearly. You have given me a special gift that I will treasure and share for years to come. My experience on February 8th was one I won't forget. Your willingness to inform and listen as well as your true care for each of your patients that day will not be forgotten.

I wish I could do more to express my gratitude. I am not on Facebook and so I didn't know other way than to email you. Please use this as a testimonial if you wish. Thank you again.

P.s. my boxer puppy has been eyeballing little Woolfy and I have to keep telling her that is mommas toy not hers!

Ela Capdevila
They were absolutely great! I have thought about getting lasik for years and just never had the guts to make an appt for the consultation. I finally got fed up with dealing with contacts and glasses and went to a facebook group with thousands of members. I asked for recommendations and EVERY single person recommended Dr. Woolfson. I looked them up and was very impressed by his history, so I called and immediately got a hold of a wonderful lady who booked my appt. I was so amazed by how soon I was able to book it for and how easy and fast it was. From the initial call to the day of the surgery everyone on their team was absolutely AMAZING. They made my experience wonderful. I 100% recommend them and have told everyone about them. Just like his website states, do not go looking for the cheapest price look for experience. These are your eyes and you should be looking for a professional!! Dr. Woolfson is exactly that and his staff is AMAZING!! His staff made me feel at home and care d for. Everyone is so sweet. He even sent out a thank you letter which I recieved today. Best decision I ever made. Thank you so much Dr. Woolfson and team I am soooo happy with the result.

Virginia W.
I couldn't be happier with my decision to go with Dr. Woolfson for my LASIK. From the very first phone call I made, all the way through my follow up visits the entire staff has been extremely helpful and accommodating. My surgery went well and I am seeing very clearly. I would recommend this team and Dr. Woolfson 100%!

Dr. Jonathan Woolfson did my LASIK surgery in 2002, and I have been very pleased with the results. He was highly recommended by my regular eye doctor and by a colleague at work, both of whom warned me that he was not the least expensive option out there, but was the best. I freaked out at the last minute and asked to hold the surgical assistant's hand while the procedure was going on; she tried to get me to squeeze a tennis ball instead, but when I insisted on holding her hand, she went along with it.

Patricia Gilmore
I will highly recommend WOOLFSON EYE Institute. This practice is will organize from the first visit until the day of surgery. The Protocols with the patients Identifiers, sites to Perform surgery and the review of surgery with Dr. WOOLFSON WAS VERY IMPRESSIVE. I can continue to give much more positive comments but Only given a limited characters. Thank you again for a great experience job well done.

Lisa Pellom
Dr Woolfson and his wolf pack are amazing. I had Lasik yesterday. I was a little nervous but his team was very caring and made me feel relaxed. This was one of the best decisions I have ever made. I have worn contacts and glasses for 26 years. So waking up this morning and being able to see without glasses was amazing. I can't thank Dr Woolfson enough for giving me my eyesight back. Went for my follow up visit this morning and my vision is 20/20. Thank you from the bottom of my heart.

Yelena Brusilovsky
The team at Woolfson Eye Institute is amazing! Dr. Woolfson, David, and Anne were so kind and helpful. On the day of the procedure they spend so much time making sure you are comfortable and even allow loved ones to join you in the surgery room. Plus, they give you an adorable stuffed animal/wolf! It's so refreshing to visit a doctor's office where the entire staff is genuinely passionate about their jobs.

Don Abramo
Dr. Woolfson operated on me when he was part of TLC eye center in Greenville, SC. It was December 18th of 2001. My vision was worse than 20/400 and I was the last patient of the day. It wasn't until 8:30 pm at night when Dr. Woolfson operated on me. I'll never forget as I was a little nervous and Dr. Woolfson put me at ease, reminding me this was his life's work and that he would take care of me. Here it is, 17 years later, and I still have fantastic vision. The surgery resulted in my vision being corrected to 20/13 in both eyes. My vision is still laser sharp to this day. Thank you, Dr. Woolfson, for taking care of me and changing my life for the better, forever!