R. Doyle Stulting, MD, PhD
Referral Ophthalmologist
Clinical Trials
1-866-LASER22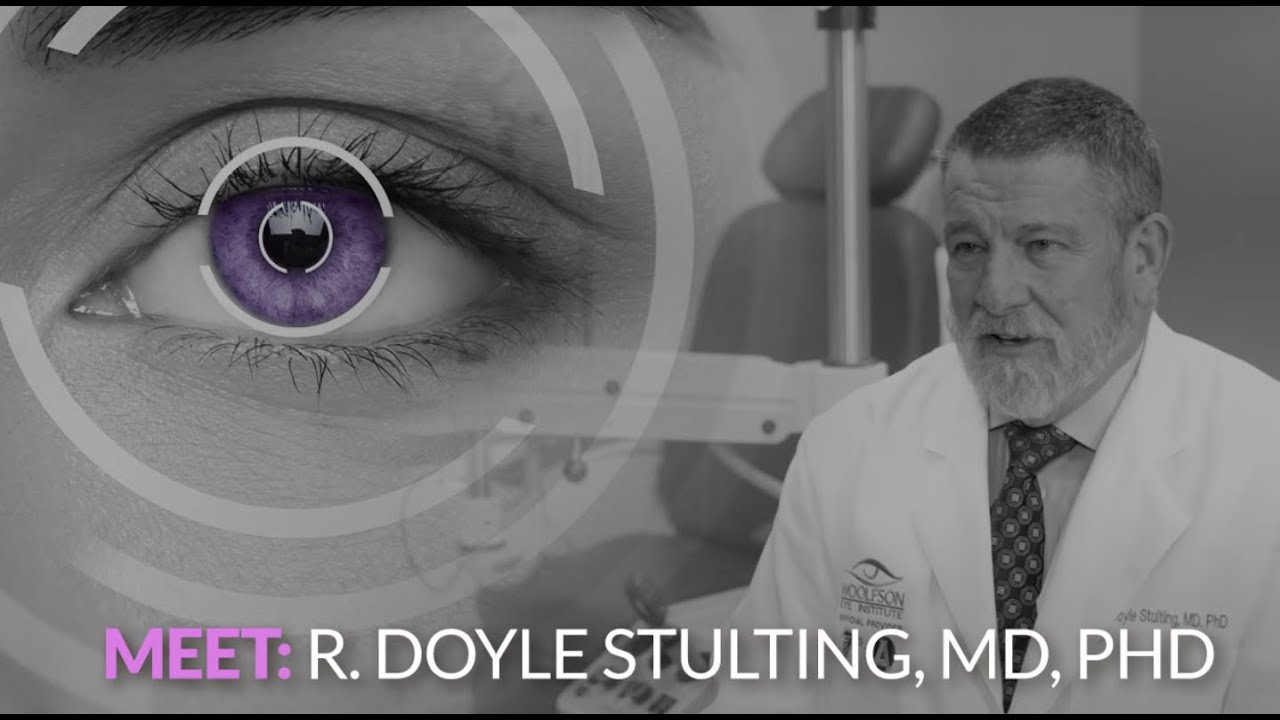 Dr. Stulting is the co-founder of the Stulting Research Center, a pioneer in corneal disease research and LASIK, and serves as the Director of Corneal Disease & Research at Woolfson Eye Institute. With an illustrious career spanning more than 30 years, his basic research efforts have opened the doors to a deeper understanding of the mechanisms of corneal transplant rejection and herpetic ocular disease and new treatment paradigms. He chaired the Ophthalmic Devices Panel, an advisory group to the FDA, for three years and served as a member for 10 years. Recently, Dr. Stulting was also selected to present the prestigious Binkhorst Lecture, which you can read more about here.
As an experienced surgeon and medical monitor, Dr. Stulting is overseeing a clinical trial using a new intraocular telescope for patients with cataract and severe central vision loss from macular degeneration. He is one of the most frequently cited investigators in the field, authoring more than 200 publications and countless other articles based on his extensive clinical research in corneal transplantation, laser treatment of refractive errors, LASIK, the management of dry eye, and cataract surgery.
He is a revered authority for patients with complex issues that generate difficult questions about refractive surgery outcomes, and is a sought-after speaker on both refractive surgery and cornea topics.
---
What Patients are Saying about Dr. Stulting

Jennifer Thomas Archer
I was referred to Woolfson Eye Institute to see Dr. Stulting Corneal Cross Linking. I had such a pleasant experience. He and his staff assessed me and are monitoring my doctors concerns.I thoroughly enjoyed all of the staff especially Tabitha and Dr. Stulting himself. They both did such a great job in educating me and walking me through each process.

The Best Eye Surgeon Worldwide! I have a rare collagen disorder that causes complications for any surgery. I needed cataract surgery but was very concerned after meeting with two eye surgeons who did not know about the disorder, nor did they want to learn about it prior to performing my surgery. Alarmed, I spent two years searching for the best eye surgeon available anywhere. When I met Dr. Stulting, I knew immediately he was the surgeon I needed. He performed both of my eye surgeries (one month apart) with perfect results and no complications. 20 months later and I am still thrilled with the results. Dr. Stulting is a Miracle Man!!

David Orland Brown
Incredible LASIK eye doctor! I highly recommend Dr. Doyle Stulting for ANY and ALL questions about your eyes!

Lisa Holland
The best experience I've ever had!! Dr Stulting is the Best!! Can't wait to get rid of these glasses!!!!

Bernie Blount Goddard
Dr. Stulting and his staff are wonderful and they do amazing things at The Wolfson Eye Institute!!!

Ilene F.
I highly recommend Dr. Stulting. My cataract surgery on both eyes went great and my vision is now excellent. I was very apprehensive about the surgery because I had had a retina tear in each eye in my past. I was referred to this doctor because I feared complications and my optician said Dr. Stulting is the doctor to go to for high risk cases. Under his care I had a very positive outcome. I want to thank Dr. Stulting for being such a skilled physician.