Does LASIK Hurt?
You've been considering LASIK eye surgery for a long time.
For ages, you've been hearing from your friends and colleagues all the reasons why you should have the procedure. They talk about their joy in no longer having to wear glasses, their improved appearance, and increased self-confidence.
You know all the benefits. Remember that first time you put on new glasses or contacts, and you saw everything come into sharp focus?
LASIK gives most people better visual acuity than they had with glasses or contacts.
With LASIK you can swim, snorkel, ski, and play ball with perfect vision––no more having to give up the activities you love because glasses or contacts limit your ability.
And it's the little things too that LASIK provides, like
Being able to fall asleep without worrying about rolling over your glasses or taking out your contact lenses
Never again experiencing the misery of a piece of sand getting underneath your contact lens while at the beach
Not having to pack solutions, eyedrops, cases, back-up lenses, and prescription glasses for a vacation
And much more!
---
You know all the reasons why you want to have LASIK, but a nagging fear is holding you back: Is LASIK painful? Does LASIK hurt?
In a word: No.
---
At the Woolfson Eye Institute, every step in the LASIK process––before, during, and after surgery––is designed to ensure you are comfortable, relaxed, and pain free.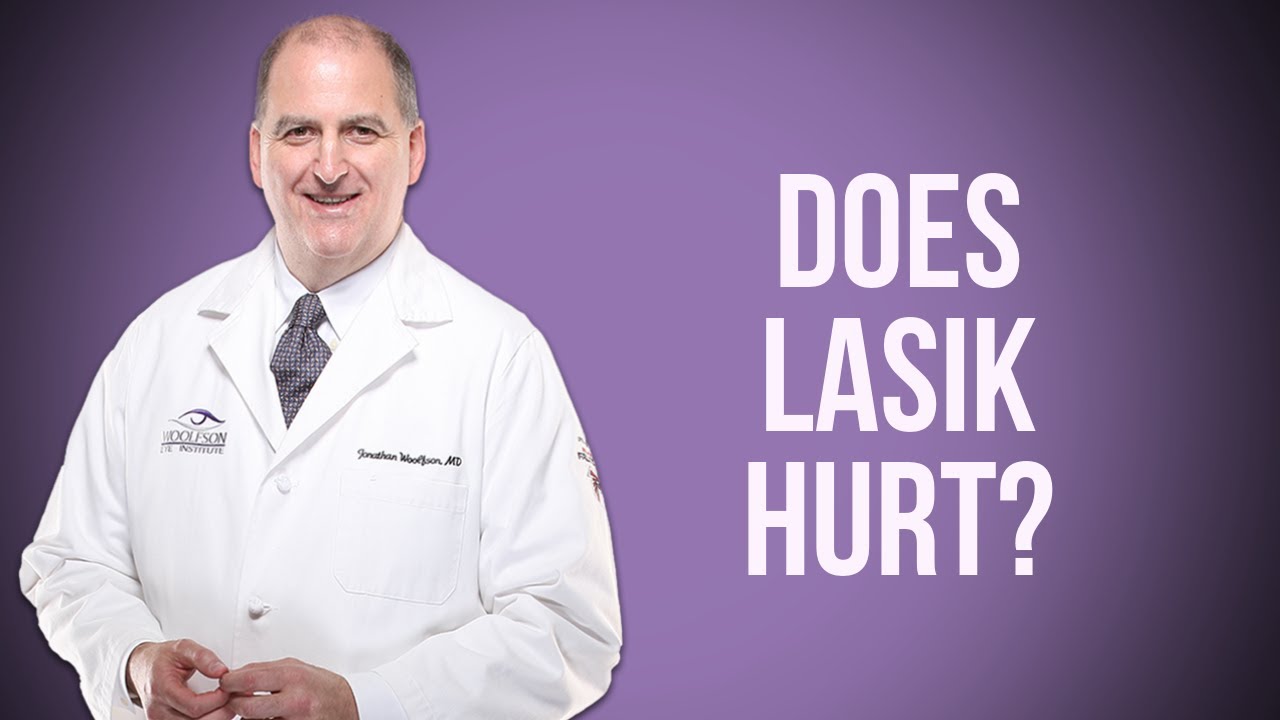 Before LASIK surgery: What to expect
Before surgery, our LASIK doctor will answer all your questions and address any concerns you may have.
They will evaluate your eyes and vision, and determine a treatment plan that will be converted to a personalized computer dataset for each of your eyes. This tailored approach promotes safety, accuracy, and predictability, which translates to excellent results.
LASIK surgery day: What to expect
On the day of the procedure, you'll meet with our doctor and go over any last minute details. If you're nervous, your companion is welcome to join you in the laser room and hold your hand.
If you are especially anxious, you can ask for a sedative. If you relax and listen to what our doctor is saying, you can get through the surgery without the need of a sedative.
But if you should change your mind while the LASIK procedure is underway, tell our doctor, and they can stop at almost any time to give you one, but typically, less than 1% of patients need to do this.
In the laser room, our doctor will apply a numbing anesthetic to your eye. When the eye is fully numb, our doctor will put a lid holder in place to keep your eyelid and eyelashes out of the way. The anesthetic works great on the eye itself, but you will sense the lid holder, which may feel a little uncomfortable.
If the lid holder is bothering you, our doctor has a tray of other lid holders of different shapes and sizes, which they can bend and mold to make you feel more comfortable.
During surgery, the sensation you will feel is pressure. As that pressure builds the vision may go down, and it may even gray out or black out for about 15 seconds. That's normal, and there is no related discomfort.
Our doctor will keep you advised of what's happening along the way so there are no surprises. The laser will sound like humming in the background, and you may hear some clicking and clacking.
When our doctor is finished with the first eye, they will put some drops in it, check the eye carefully, and then do the same thing on the second eye. You will feel no pain, and the procedure lasts only 10 or 15 minutes. No injections or stitches are required.
After LASIK surgery: What to expect during the post-op phase
After LASIK surgery, you will sit up, and that's when the fun begins. I call this, "The Wow Time." Your vision will be a little blurry due to some fluid on the eye and minor swelling, but you should see a huge improvement in your sight immediately.
The really good news is that a day or two after surgery, your vision should be 20/20 or better, and it will stay that way.
Before you leave, you will be given more anesthetic, and your eye will be numb. We will provide you with eye shields and protective tinted glasses.
When the anesthetic wears off, your eyes will likely feel scratchy, and they may feel dry and irritated, which can give the impression of a burning sensation. For most people, this is the worst part. An over-the-counter Tylenol PM or Advil PM (or a generic version of either) is recommended to both ease any discomfort and help you sleep for several hours following the surgery.
The direction for this day is to relax your eyes. Use common sense behavior: don't bump or rub your eyes, don't squeeze your eyes tight. Keep your eyes closed, unwind, and listen to a podcast.
Within several hours after your procedure, your vision should be significantly better. Antibiotic and steroid eye drops, which will be given to you by our doctor, will help to expedite the healing process, and after 48 hours, you'll be in really good shape.
Some folks feel good enough to go back to work the day after surgery, and if you have a regular office job, you can probably handle that. But our preference is for you take off work both the day of the procedure and the day after, giving yourself 48 hours to heal.
Driving is not recommended until our doctor verifies you have legal driving vision (and it will be without the need of glasses!), which is usually day 2.
Do you feel ready for LASIK?
A lot of fear is based on the unknown, and here at the Woolfson Eye Institute, we want you to be aware of all the steps involved in LASIK, and make sure you have the tools you need to have a successful, stress-free, and painless LASIK experience.
For more information about LASIK, or to schedule an appointment, please contact our location nearest you today:
---